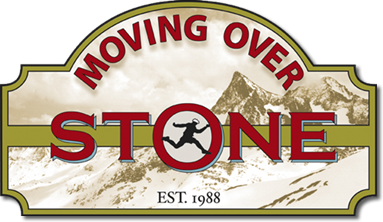 Doug Robinson

 Doug's new book, The Alchemy of Action, is now available as an e-book. In addition to being able to buy the book for your Kindle, iPad or other e-reader, you can peruse the Foreword, Introduction, Table of Contents and first few chapters online.

 We are still booking new dates for the US tour this fall and winter. Keep checking back for additions or sign up for updates. Or contact us about having Doug speak to your group.
Doug Robinson, 68, is a professional mountaineer known internationally for his climbing, guiding and backcountry skiing, as well as his poetic writings about the mountains and why we climb them. Closely identified with California's High Sierra, Doug has been called "the modern John Muir."
WRITING
New! Why do people climb mountains? Because it gets us high! Doug's long-awaited book, The Alchemy of Action, offers a fresh—even shocking—explanation of why people climb mountains, by delving into the brain chemistry behind climber's euphoria. The intriguing story behind why we are so much more than "adrenaline junkies" leads deep into the psyches of all adventure athletes as they push toward the ragged edge of human potential and return with shimmering new awareness from a heady brew of hormonal cocktail that includes the surprising ingredients of home-made organic psychedelic compounds.
"John Muir meets Jack Kerouac" is how William Broyles, Jr., (who wrote the screenplays for Apollo 13, Cast Away and Planet of the Apes), summed up Doug's 1996 book, A Night on the Ground, A Day in the Open. Sold out of its first edition, it collected Doug's earlier writings about climbing, backcountry skiing and the spirit of wilderness.
Doug's writing and photography credits include National Geographic, Sports Illustrated, Esquire, Outside, Men's Journal, California, Los Angeles Times Magazine, Alpinist, Ascent, Climbing, Mountain, Rocky Mountain, Mountain Gazette, Powder, Rock & Ice, with translations in several foreign languages. Co-wrote Climbing Ice with Yvon Chouinard. Co-wrote screenplay "Hard Rock" with William Broyles, Jr.
Recipient of the American Alpine Club's Literary Award, 2010.
CLIMBING
"The father of clean climbing."—Climbing magazine
Doug helped lead the "Clean Climbing" revolution in the early 1970s, an environmental movement that changed forever the way climbers anchor themselves to steep rock. Clean climbing eliminated the traditional hammer-driven pitons that were increasingly damaging even hard granite. It substituted aluminum wedges slotted by hand into cracks in the rock. The result has lightened the impact of climbers on mountain environments around the world. Doug's essay, "The Whole Natural Art of Protection," sparked the movement. And then his first clean ascent of the face of Half Dome, made in 1973 with Galen Rowell and Dennis Hennek, slam-dunked the revolution when it was featured as the cover story of National Geographic magazine.
Fifty-five years including dozens of first ascents on ice, rock, and alpine terrain. Doug cut his teeth on Yosemite granite during the Valley's Golden Age in the sixties, a time when all the climbers in Yosemite could fit around one campfire at Camp 4. First Ascent Dark Star on Temple Crag, the longest alpine rock climb in the Sierra. Developed Buttermilk bouldering. First ice ascents V-Notch and Lee Vining Icefall with Yvon Chouinard, the founder of Patagonia. First ascent Ice Nine, the hardest alpine climb in California. Second ascent of Ama Dablam (22,495′) in Nepal, 1979, filmed for ABC Sports.
VIDEO
"Best-selling rock video of all time"
Produced, directed, wrote and hosted Moving Over Stone (1988), which was ground-breaking in its fusion of instruction and entertainment, basics to cutting-edge.
GUIDING
"California's premiere mountain guide"—San Francisco Examiner
First President, American Mountain Guides Association. AMGA Certified Rock and Alpine guide. 50 years experience, US and foreign countries. Guide to Fortune 500 leaders (e.g. William Randolph Hearst III) and corporate training (Apple, Sun Microsystems, Levi's). Teaching and mentoring to apprentice guides. Palisade School of Mountaineering, 12 years. Royal Robins Rockcraft, 2 years in southern Yosemite "hinterlands." Catalyst Consulting Team, corporate climbing programs, 12 years. Founded Foothill College climbing program.
SKI MOUNTAINEERING
Led first continuous ski traverse John Muir Trail, 250 miles, 1970. Many first telemark ski descents, including Mt. Rainier, 1980. Current speed record Sierra High Route: 50 miles and over 11,000′ gain/loss in 22 hours. Guides backcountry expeditions.
EQUIPMENT DESIGN
Developed climbing Stoppers and Tube Chocks for Chouinard Equipment, also packs and boots, several patented.
PRESENTATIONS
"You made 400 climbers sit still for what was essentially a poetry reading!"—Jim McCarthy, former president, American Alpine Club.
Inspiring slide shows, lectures, and reading that have headlined at the International Festival of Mountain Literature and the Int'l Climbers Festival.
EDUCATION
BA in English, San Francisco State University, 1969.
FAMILY
Doug loves to hike and backpack, climb and ski with his kids Toryn, 21, and Kyra, 18.
HOME
Kirkwood, CA.
The Alchemy of Action
By Doug Robinson
With a foreword by Dick Dorworth
Why do people climb mountains?
Because it gets us high.
But adrenaline junkies we are not,
and beta-endorphin isn't behind runner's high either.
The surprising answer reveals natural psychedelic transformations
at work deep in the brains of adventure athletes.

Need more of a preview?
The Alchemy of Action
Autumn 2014 / Winter 2015 Speaking Tour
Doug will be making his way across the US during the fall of 2014 and winter of 2015 to discuss his newly released book. If you're involved with a climbing gym or other athletic or scientific community that's interested in hearing Doug speak about The Alchemy of Action, please go to the CONTACT page and send us a note.
Confirmed Dates, as of July 12, 2014
Upcoming… Stay Tuned for Details!
Ouray Ice Festival: Jan 2015, Ouray, CO
Michigan Ice Festival: Feb 2015, Munising, MI
Past Appearances—A Selection of Recent Presentations
Yosemite Facelift: Sept. 2013, Yosemite Valley, CA
Northern Lights Trading Company, co-sponsored by the American Alpine Club, Montana Section: March 2014, Bozeman, MT
Black Sheep Café: March 2014, Bishop, CA
Rock Ice & Mountain Club: Feb 2014, Santa Rosa, CA
University of Central Oklahoma: April 2, Oklahoma City, OK
About Doug, a selection
Climbing Half Dome the Hard Way, National Geographic magazine cover story, Vol. 145, No. 6, pp. 782-791, June 1974. This article, which was Galen Rowell's first of many for National Geographic, documents the climb that he, Doug and Dennis Hennek did up the Northwest face of Half Dome in 1973. It was the first "clean climb" of a big wall and it helped publicize the revolution that Doug helped spark with an essay he wrote for the 1972 Chouinard Equipment Catalog.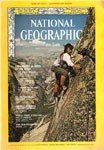 King of the Sierra: Doug Robinson, California's premier mountain guide, by John Flinn, San Francisco Examiner Image magazine cover story.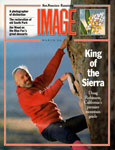 Running Talus: Profile of Doug Robinson, by Brad Rassler, Climbing magazine cover story.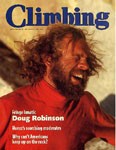 Doug Robinson and the Extreme Bohemians, in California's Adventure Sports Journal.
The Alchemist, by Brad Rassler, Ascent magazine – current issue (May 2014) now on sale.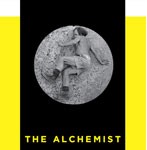 A Tour of Magic and Mystery, by Duane Raleigh, Editor-in-Chief, Rock and Ice magazine.
The Art of Clean Climbing, short film by Cyrus Sutton, sponsored by Patagonia.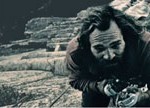 Praise for Doug's first book, A Night on the Ground, A Day in the Open.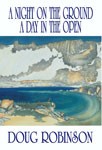 By Doug, a taste…
Moving Over Stone, Doug's instructional-inspirational video about climbing—featuring Lynn Hill, Peter Croft, Bobbi Bensman, Jerry Moffatt, Todd Skinner, Stephen Glowacz and Dale Bard—is the best-selling "rock" video of all time. This VHS tape (what's that, Dad?) came out in 1988, and we're working on making it available for digital distribution in the 21st century. It's a classic, and it's still really current. Drop us a line on the CONTACT page if you want to be notified when it is available on DVD or via download.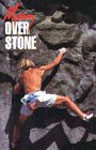 It'll take us a while to catalog the 50+ articles Doug's written over the years. Here are a few links to seminal pieces and a few recent ones.
The Whole Natural Art of Protection, 1972 Chouinard Equipment Catalog.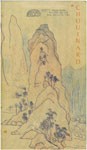 The Whitney Massif: Classic Routes, Hot New Lines, and a Blank Canvas for the Future, co-authored with Amy Ness and Myles Moser, The American Alpine Journal 2014 – coming out soon!
Growing Up, On the South Face of Half Dome, Yosemite, The American Alpine Journal 2008.
The Better Half, Rock and Ice magazine – also about Sean Jones' route up the South face of Half Dome, Growing Up.
Thank you! I have received your message.
Contact info

(209) 257-3457

info@movingoverstone.com